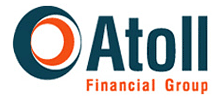 Atoll Energy Partners (AEP) is a holding company dedicated to investing, distributing, implementing, and rolling-out technologies, products, and strategies to address the production and generation of energy in an environmentally-responsible way. Leveraging 13 years of experience financing energy companies and projects globally, through Atoll Financial Group, an investment banking affiliate, the Atoll Group of Companies are dedicated to the growth and sustainability of the energy sector, including the O&G space, Renewable Energy and Clean Technologies.
Atoll Energy Fluids (AEF) is a wholly-owned subsidiary of Atoll Energy Partners. Atoll Energy Fluids, together with its partners, is able to deliver a powerful and competitive solutions-oriented approach to the manufacturing, transportation, and optimization of hydrocarbon production with environmentally compliant products.
​
​
​
​
​
​
​
Atoll Environmental Solutions (AESOL) is a wholly-owned subsidiary of Atoll Energy Partners. Atoll Environmental Solutions combines scientific and technical expertise to deliver strategic, sustainable, and technically sound environmental solutions. We are committed to innovation with quality, integrity, and reliability that will improve the environmental profiles of our clients.