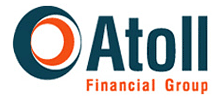 Bring Your Vision




WE'LL FIND THE WAY
Atoll Financial Group is a Washington, DC-based financial services company specializing in assisting public and privately-owned corporations in raising funds in the capital market for the realization of long-term, multi-million dollar projects.
​
Whether your business vision needs project financing, venture capital funding, equity financing or any other type of investment funding, our coverage is global and includes a wide range of industry segments. Atoll is very focused on the energy sector and offers clients a vast amount of experience in both renewable and conventional energy projects.
​
Our strength comes from in-depth industry expertise, long-lasting connections with highly diversified funding sources, and a talented team that shares the same solution-focused mindset. As your advocate, we bring you the most competitive financing instrument. We can do that because we work directly with such a diversified group of investors and lenders. It is through a culture of mutual accountability and commitment to excellence that we meet your financing needs.
What is Unique about us?
Atoll Financial Group is completely independent from any one bank or group of investors. This means that we can source our finance solutions from the whole capital market.

Over the years, we have developed solid relationships with numerous funding sources around the globe. The diversity of these sources allows us to present our clients with not only more financing options to consider, but also with the best possible terms.
​
We are passionate about our work, our clients and their vision. We set ambitious goals and do whatever it takes to meet them. We hire talented, action-oriented professionals who will take pride in our mission statement. We continuously look for better, more effective ways to work as a team and to provide our clients with superior service.
​
We strive to become the 'go-to-experts' in the industry when a creative and bold approach to funding is needed.
Our mission is to deliver resourceful and innovative consulting services for the completion of financial structures conducive to the funding of projects in different sectors, globally.
​
Our slogan "Bring your Vision. We will find the way," is not marketing jargon. It truly speaks to the approach we take with every project, every client, every time.
​
Atoll's core values – the basis for how we interact with each other, do business with our partners, serve our customers, and achieve success, are:
​
Integrity – We conduct business along with the highest ethical standards, and we follow through on our commitments and promises.
​
Perseverance - Enduring determination and commitment are the essence of perseverance. Our team takes on every project with clear objectives, a firm course of action, and a sense of urgency.
​
Innovation – Whatever it takes to realize our client's vision! If an off-the-shelf solution does not meet our clients' needs, we will look for alternatives and deliver the best possible solution custom-tailored to our client's project.
​
Teamwork – Collaboration, respect and solidarity are critical in any work environment. We value every individual's skill set and constantly promote the exchange of ideas and knowledge among our team members.
​
Competitiveness – We believe competition brings out the best in us. This is why we hire talent, encourage personal development and promote those who consistently deliver results. This is also how we stay ahead and exceed our client's expectations.