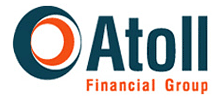 Client
Focused
Atoll Financial Group has extensive expertise in mergers and acquisitions across a range of industries. We bring expertise, relationships, and sector-specific knowledge to every client we work with.

We help companies with annual revenues ranging from $10 million to $100 million navigate mergers and acquisitions, business succession, and search fund acquisitions, including valuation, structuring, go-to-market, and execution. Deep expertise across business verticals along with extensive relationships in capital markets, helps Atoll provide valuable advice on the strategy at each stage of the company's development.
$BN IN BUY SIDE
ENGAGEMENTS
$BN IN SELL-SIDE
ENGAGEMENTS
With 15+ years of experience, $2bn in buy-side, and $1.3bn in sell-side engagements, our team has earned a reputation for providing superior execution and service for clients.

While the clients we serve represent a wide range of sectors, our bankers developed expertise in technology, energy, healthcare and business services as the primary coverage areas.
​
Energy & Cleantech
Energy & Cleantech
Marketing & Consulting
Marketing & Consulting
Logistics
Transportation and Logistics
Education & Training
Education & Training
Residential Services
Residential Services
Infrastructure Services
Infrastructure Services
Environmental Services
Environmental Services